Coughlin Gives Back
---
Step Up for Stefanie 5K event held on The OSU Campus
To learn more about the Stefanie Spielman Fund CLICK HERE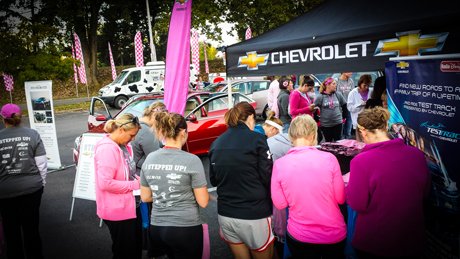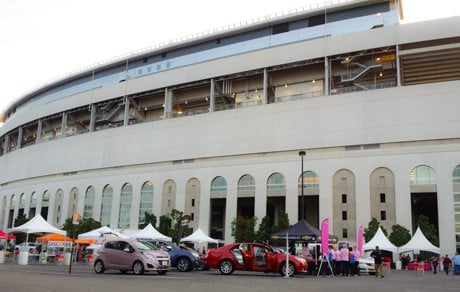 ---
CONGRATS Luke Roth on winning Frankie's Custom Crew Camaro!!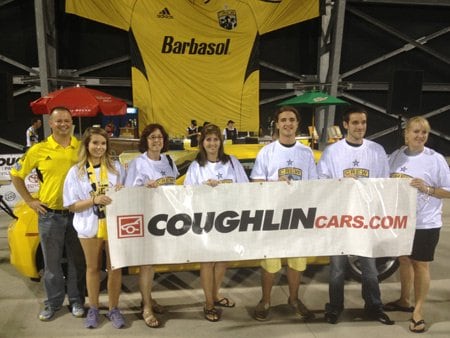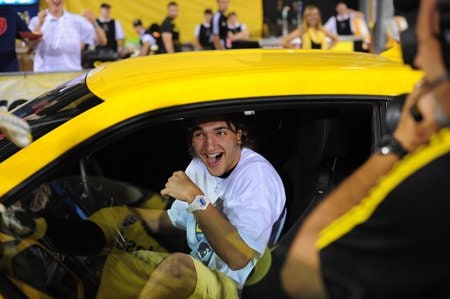 ---
Golf outing raises $3K for Toys for Tots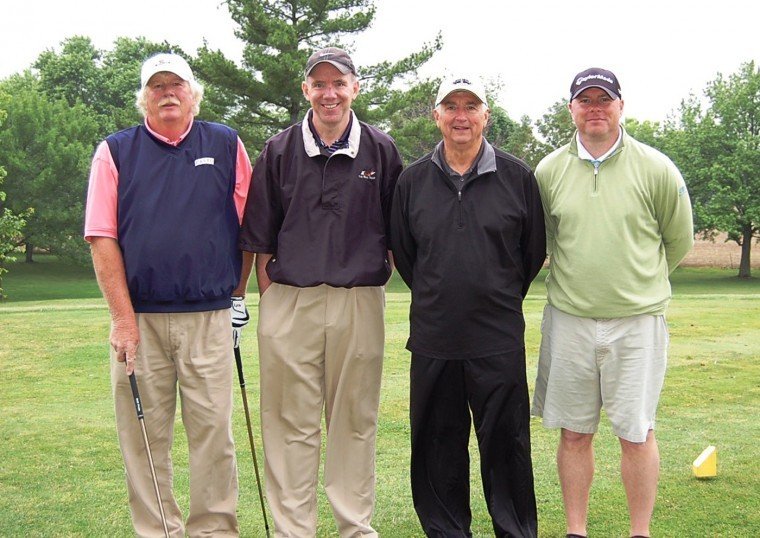 PICCA's fourth annual Toys for Tots golf outing was held June 7 at the Pickaway Golf Club. The event was sponsored again this year by Coughlin Automotive of Circleville.
A field of 32 golfers had an opportunity to win a brand new Chevrolet Malibu, golf dream vacation, golf clubs and other prizes if they were lucky enough to score a hole-in-one on one of the par 3 contests. No one won any of the big prizes, but the event raised more than $3,000 for Pickaway County Toys for Tots.
The team "Hess Legal" won the outing this year. Coming in second was the Savings Bank and third was Elsea's team. All three winning teams donated their prize money back to Toys for Tots.
---
Coughlin Cars of Circleville Gives away New ride to one lucky student with excellent attendance at Circleville High School! 225 students qualified for the car giveaway this year compared to 177 and 144 in the second and first year, respectively.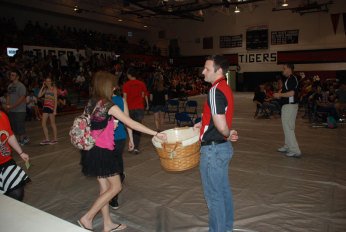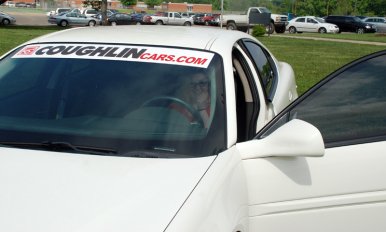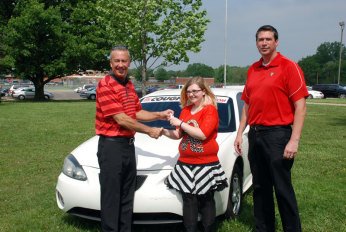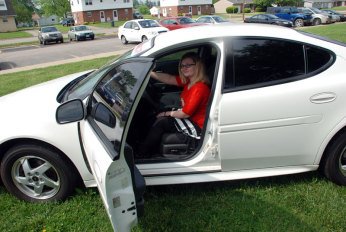 ---
Coughlin Cars of Circleville gives car away to student through ACTION program
Student earns car through ACTION program
Posted: Tuesday, May 15, 2012
REGGIE ALLISON, STAFF REPORTER Circleville Herald
CIRCLEVILLE - A Circleville High School sophomore was awarded the keys to a pre-owned car for excellent attendance as part of the ACTION program at CHS. Shaylea Gothard's name was drawn out of more than 190 others at the second annual ACTION program car giveaway Tuesday morning. "I think my parents are going to tell me I can't have it," said Gothard, all smiles despite her reservations. "I want Mr. Davis to call them and tell them I won the car."
Gothard said she was excited to win the car. She said she doesn't have her driver's license yet, and she also had no plans to get it anytime soon, although she conceded she now has a viable excuse to get one.
"There were 192 students eligible to participate in the car drawing," said Fred Styers, a teacher at CHS and adviser of the ACTION program. "We just started the program last year, and about 23 percent of the student body was eligible based on attendance. This year 32 percent of the student body was eligible. We are very proud of that increase." The ACTION program is a school-wide positive behavior support system that provides a positive focus on encouraging desirable student behaviors to maximize achievement. Each letter in the acronym "ACTION" stands for a different aspect of the program: Attendance; Completing assignments on time; Transition planning with guidance office; Involvement in extracurricular activities; Outstanding grades; No disciplinary actions. Styers said eligibility for students is based on having "excellent" attendance, meaning that each student eligible has accrued no more than four absences or tardy arrivals throughout the 2011-2012 school year. He said they also had no unexcused absences. He said he felt like following through with the car giveaway last year showed the student body that ACTION was serious, so more students tried for better attendance this year in the hopes of winning.
"The car giveaway has served its purpose and it continues to do so," said Styers. "It had the desired effect on student attendance. Hopefully that will continue to increase. Half the battle is getting the students here; once we have them here, we have no doubt in our abilities to educate them successfully." As part of the drawing this year, ACTION awarded all 192 eligible students with a buffet-style breakfast in the school cafeteria. This was a new addition to the car giveaway celebration, although Styers said ACTION hosted similar breakfasts for students who had good grades as well as good citizenship. "We also have incentive drawings for iPods and some other cool stuff," said Styers. "Larger school districts have had a lot of marked success with incentive programs like this. We also have a school cafe called the Tiger Claw Cafe, which is operated entirely by students with multiple handicaps. They sell bottled water, coffee and iced tea. All profits from the cafe go toward funding ACTION awards, including our portion of the car." The prize, a 2004 Pontiac Grand Am, was donated by Coughlin Automotive of Circleville. Coughlin's general manager, Doug Winland, attended the car giveaway and drew the winning name from the basket. Winland said the car is paid for through a 50/50 deal; CHS pays for half and Coughlin donates the other half. "From what I understand, attendance numbers have grown significantly since last year's car giveaway," said Winland. "Coughlin Automotive is glad to be involved with this program, and with ACTION at CHS. Hopefully the high school will continue to do this program in the future, and if they do, we will continue to participate as well."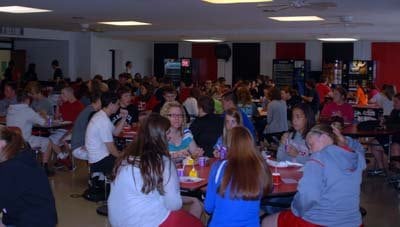 Students enjoying breakfast before the drawing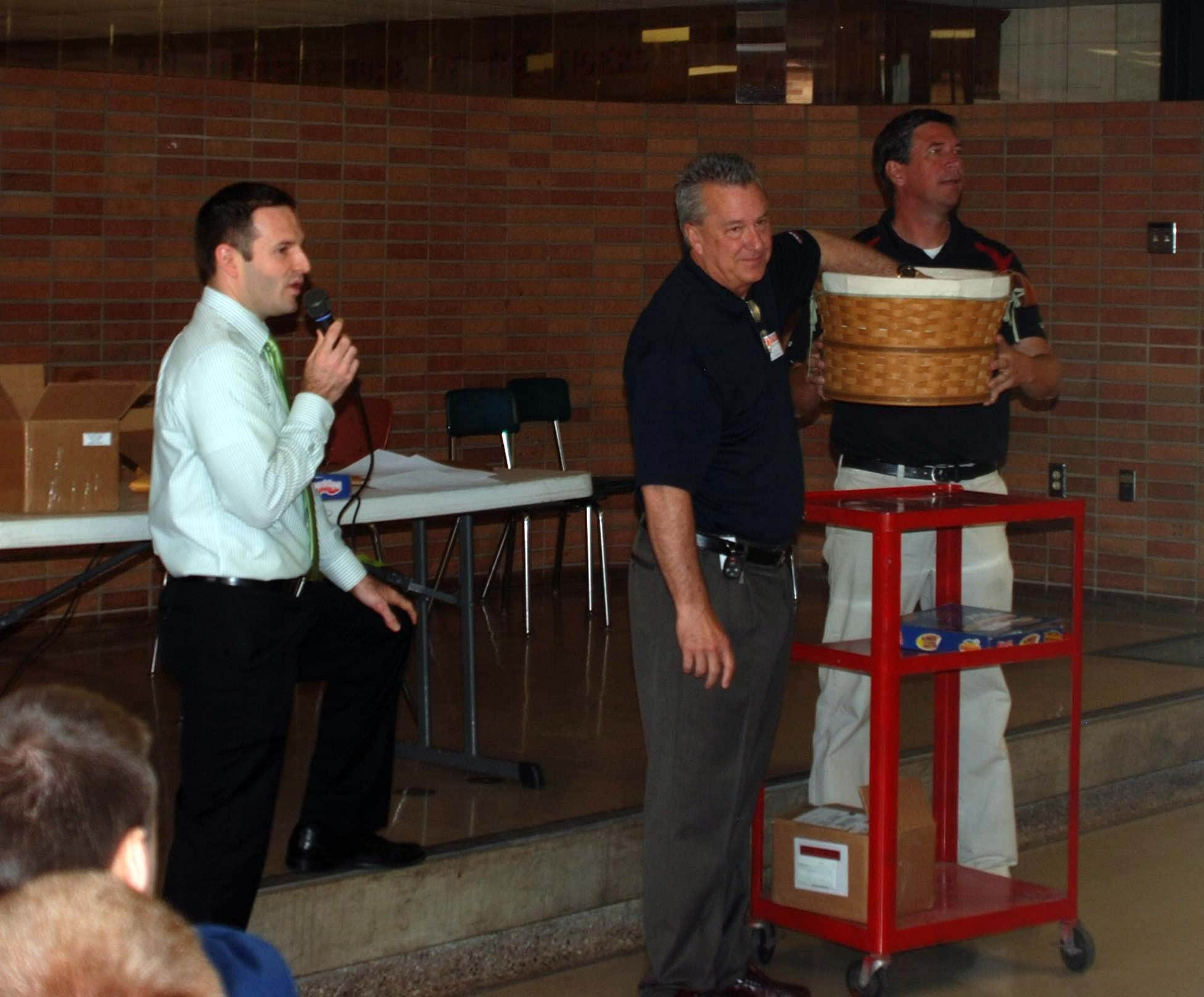 Doug Winland (Coughlin Cars of Circleville's GM) drawing the winning name for the car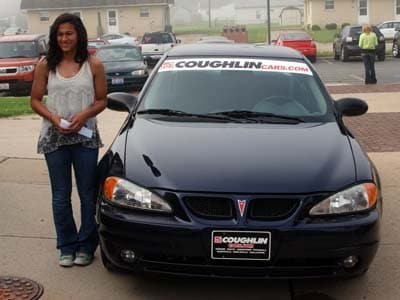 Shaylea, the winner of the 2004 Pontiac Grand Am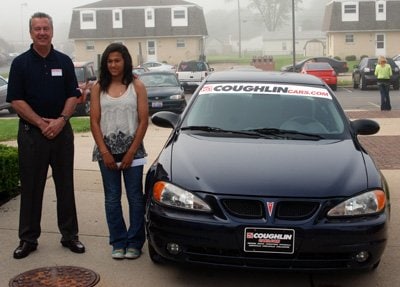 Shaylea and Doug with the 2004 Pontiac Grand Am
North Fork board honors student achievements with Coughlin Automotive "You Make a Difference Award"
UTICA - The North Fork Board of Education on Monday celebrated student achievements at its meeting on Monday. It recognized outstanding boys and girls basketball team members as well as wrestlers. It also honored Coughlin Automotive "You Make a Difference" award winner Teresa McCoy. McCoy was nominated for the award by Utica fourth-grade student Preston Hardesty.
The rest of the meeting was basically routine, Treasurer Jack McDonald told the News on Tuesday.
Regarding personnel, the board granted the retirement requests of: Elementary teacher Vickie Hahn, with 35 years of service to North Fork; elementary teacher Pamela Mercer, 32 years; and elementary teacher Viann Yankulov, 35 years, all effective at the end of the 2011-12 school year. It also approved a three-year contract for elementary principal Sharon Greene and approved the certificated substitute list. Bonnie Ramseyer was approved as volunteer softball coach, Beth Haines was approved as a volunteer and Scott Cline and Tina Cummings were added to the classified substitute list.
Besides approving routine fiscal actions, the board switched its natural gas carrier through the Metropolitan Educational Council. McDonald said the change should save the district at least $50,000 a year. Also regarding finances, McDonald said the board is starting to discuss ways to fund extra-curricular and co-curricular activities for next year. The cost is between $300,000 and $350,000 and it looks like the North Fork Children's Foundation will not be able to fund all the activities.
In other action, the board approved an outdoor education program for the seventh grade at Pilgrim Hills in November, authorized a summer school intervention program for primary students to meet third grade reading intervention requirements and authorized a summer school program for seventh- and eighth-grade students who do not meet the standards for promotion.
The next regular meeting of the North Fork school board will be at 7 p.m. in Newton Elementary School on April 16.
---
Coughlin Cars of Circleville helps Picca with Car Initiative
REGGIE ALLISON, STAFF REPORTER Circleville Herald
CIRCLEVILLE - A fourth client of PICCA's By Car initiative successfully completed the savings program that allowed her to purchase a used car from Coughlin Automotive with matching funds from the local agency.
Melissa Loar entered the program to save money toward the purchase of a vehicle for work and last week purchased a 2003 Mercury Sable.
"What many people don't realize is that the By Car program is a savings and budgeting program," said Teresa Cramer, benefit bank coordinator for PICCA. "Any client participating in the program has to have consumer and financial education provided by PICCA in addition to saving the required $1,333."
Once a client successfully saves their share, PICCA's finance fund matches the amount two to one, providing another $2,666 for a total of $3,999 to purchase a used vehicle of decent quality.
Cramer said the last two clients to have met the goal amount have gone through Coughlin for their vehicle, which is provided at a minimal mark-up for the dealership, thereby increasing the client's purchasing power.
"Lack of transportation is a key problem with keeping a job among many of our clients," Cramer said. "This program helps people get a job, keep a job or get an education. Transportation or lack thereof is the key to success or failure."
Cramer said many people have problems budgeting; even following tax season, people don't understand how fast their money can be spent and in many cases, where it goes.
She said keeping track of one's finances is a key component of the By Car program, and often in the past clients have been well on their way to saving money when suddenly that money had to be used for something else, often an emergency financial situation.
"It's a more difficult program to complete than many people realize," said Cramer. "Often the people who qualify for it work hard, long hours at low-paying jobs. Many times they have kids, bills and other financial responsibilities, so saving and budgeting money presents a real challenge. Despite what people may think, this is in no way a free car giveaway."
Cramer said the last recipient of the By Car program was forced to walk from her Pontius Lane home all the way to Taco Bell on US Route 23 nearly every day before she managed to enter the program and save enough money to get her own Ford Taurus from Coughlin.
"I can't thank Coughlin enough for their help with this program," said Cramer. "In today's world, it's a rare find to have a company that really cares about people. They go over the vehicles in detail and make sure of their quality before selling them to our clients. It's nice to know the clients going through this program are taken care of."
Cramer said Circleville is surprisingly considered to be a metropolitan area due to its close proximity to Franklin County, whereas most people would consider it more rural. She said would-be participants must meet HUD average median income (AMI) guidelines in order for clients to even be considered for the By Car program.
In a one-person earner household, the primary provider must make less than $23,000 annually to qualify for the program. An individual with annual income even as low as $14,200 is eligible.
Since its inception in February of 2009, the By Car program has helped four clients purchase used vehicles. The program currently has two clients enrolled.
Cramer said if someone else within the household, even an unrelated roommate, has a vehicle, an individual may not be considered eligible for the program.